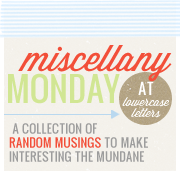 Here's my monthly collection of ordinary happenings and moments I don't want to forget.
~ as I look back it seems like most of March I actually kept up with posts about the stuff I want to remember, amazing! :) like anniversary celebrations, the dog bite, girl's nite Big Bang Theory a-thon, seeing Tami's ultrasound, Lent, etc. but of course, there are a few great moments that didn't get a mention that I would really like to remember....
~ my small group through Recovery has been going well, we've had 3 weeks now together and I love how we can be so honest with each other already and how just about everything everyone says makes me think and I'm getting so much out of it as the 'leader'. it's really helping me stay on track with my own recovery and staying accountable!
~ I was able to spend an evening with one of my good friend at her home whom I haven't been able to really visit with since November, other than short chats at Church. got to play with her two kids for a little bit and now they don't get so shy around me at Church :) we had great conversations about her wedding, potential for a small group together, healthy living, the great men God has blessed us with, and more. it's always so lovely getting to spend time with her.
~ there were 2 crazy Fridays in the middle of the month, because both of the other top level leaders (we're only 3 of us) were on vacation and sick, I had to run 2 Fridays all by myself! Luckily the facilitators and Sean realllllllly helped me out, I am so lucky to work with a great team, and I have such a great husband who has been a tremendous help! This did however force the issue that I'm doing a large percent of the work that was only to be temporary and I had to take a step back from some of the things I do. A replacement has yet to be found for one task, with one possible lead, but another was taken over by our director. AND we did finally add a 4th member to the team too, which is awesome because it was always suppose to be at least a team of 4, and we were aiming for a team of 4 plus a ministry director. Things have been a lot easier for me the last 2 Fridays, I'm thankful it's working out because I think I was about to lose it!
~ I received a spontaneous invitation to the Chris Tomlin concert from a friend who found herself with an extra ticket! it was an amazing worship experience, so re-energizing and uplifting, and I'm so glad I got to take it all in with one of my best buds! (thx AGAIN for the ticket :)
~ just before I wrote about our
Church's Big Plans
, we wrote out template letters to the 3 houses (each) we 'adopted' and hand delivered them on a very warm, sunny afternoon. honestly it was with a tiny bit of trepidation I placed those letters in mail boxes while neighbors poured into their yards to enjoy the weather, but I just kept praying and turns out I don't think anyone even noticed me, save a tiny white poodle :)
~ the rest of the month I took a little more easy, until the last few days anyway, as I have been fighting a cold I've been trying to make sure doesn't get really bad, so maybe that would explain how I've been more caught up on my posts here :) No promises I can keep this up but I'm on my way to 500 posts so I guess that's also been a bit extra motivation to acheive that soon.