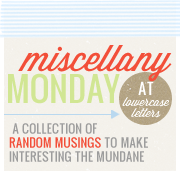 Here's my monthly collection of ordinary happenings and moments I don't want to forget. I have a lot to catch up on this time because I actually missed the September post, it's been a chaotic few months and I needed the break from a few things, mostly internet for anything other than vegging in front of.
Anyway, without further ado...
~ after I came back from California, hubby and I had one weekend of 'just us' time before the seemingly never ending busy weekends began. we spent it watching the last of the comic book movies, the latest and last Batman and my belated birthday celebrations.
~ the first weekend we had our quarterly wrestling gang get-to-gether, but my one gal pal's kitty had to be put down so she wasn't able to make it, of course the rest of us couldn't quite enjoy the evening wholeheartedly after hearing the news :(
~ the next weekend was our annual Braun BBQ out at my uncle's farm near Niverville. ended up talking a lot about sewing, a recent hobby for my 2 closest cousins and I, interestingly enough. It's also interesting the dynamics developing between the 4th generation cousins, I love watching them play new things together, like this year it was lawn bowling.
I was in the middle of a FB photo challenge so I took these cool pics of my uncle's barn and old car.

~ the next weekend was the long weekend but it wasn't long enough! Saturday was just a normal day of errands.... Sunday I took a turn on the 'summer' nursery schedule to give the regulars a break. then mom took my sisters and I, and by default, Paxton :) out to a Goldeyes game for a girls day out. we rarely ever pay attention to the game, often caught up in our visiting more, but after almost getting hit by 2 pop up balls we had to watch somewhat closely! it was good to see mom mostly back to 'normal', it was easy to forget just 2 months ago she looked so different in a hospital bed. Pax really seemed to enjoy his time out with us too :)
~ then Sean and I took Monday to ourselves because we haven't had a stat holiday to ourselves New Years! we celebrated by doing as little of anything as possible together :)
~ in the midst of all that, during our weeks were busy with a lot of Celebrate Recovery collaboration meetings to figure out the best way to move forward on all the information we had poured into our minds, and hearts, at the Summit. I spent a lot of time compiling information for training, for promotions, for leadership resources, etc. not to mention it was our year anniversary shortly and we wanted to focus on relaunching with new initiatives and starting off our 2nd year right!
Sean was also invited in to the core TEAM for CR, our Training coach needing to take a slight step back and so we needed an additional T to ensure we could still accomplish all we needed. it's so amazing to see God stir up a heart for this in Sean over the last year, and exciting to be serving so closely with my husband. we are so thankful we have each other through this sometimes very challenging ministry. we couldn't do it without each other, that's for sure!
~ I also finally had a chance to have a little creative fun and finally finish my sister's birthday present (long overdue, due to the skipped over birthday season).
even though their adoption from Ethiopia is in the air, I know they still have a heart for Africa, so it inspired my collagart gift for her.
~ then I had a baby shower to plan and help host, for my sister Tami and Paxton, we held off until her sister-in-law from Alberta was going to be out here, and then along with her, her mom, my mom and my sister Jodi, we hosted a double family + friends shower on Sept. 8th. it was even a lot of fun just putting it together as it was during the shower, and even with all those women in one room I managed to get some quality Paxton time :)
~ the next weekend Sean joined me at the baseball diamond off Perimeter near Main to watch my brother-in-law play baseball, but more to spend time with Tami and the boys. it was windy, as usual, but a little warmer than most years. we had a good time visiting, cuddling Paxton, and 'sharing' food with Teigon who wanted what was in everyone else's hand but his own :)

~ on the 19th Sean began his first Wednesday evening course for school and he is enjoying it tremendously! he comes home every Wed. anxious to share some ernest learning points (occasionally it's to prove he knew something before it was taught ;) and then often remembers other examples or points of note throughout the week as well. I am so happy he is already feeling so validated in this choice, and that he has become instantly a much happier person even though he is still at the same job for now.

~ September wasn't without it's tough points. friendships and ministry collided for a bit. I believe it was all sorted out with most friendships still intact, other than one of Sean's, and that has been a struggle. it's tough being leaders occasionally, making decisions for the whole of the ministry sometimes contradicts how we feel about individuals, but we feel God has stretched us and tested us and that we've been able to act with love and integrity. it's also hard because the same issue has affected us outside of ministry as well, as we try to be there for a couple who are experiencing things we haven't, but we continue to try to just be the best friends we can, offer whatever support and encouragement we can, and learning that often that is all that is needed.

~ I also gave my testimony again at CR, and having just been diving into a more thorough understanding of co-dependence for the sake of my CR small group, I learned so much about how I wasn't the only co-dependent in my past relationship, and I saw his choices through fresh perspective. I really delved into the denial I was in, some by ignorance, some by choice, and it's tough witness in hindsight the bad choices I made but I know that since I love who I am now (that's a huge move forward!) I have to embrace everything that made me who I am today. it all gave God a lot of ways to show me grace, a foundational piece in my redemption.

~ I decided to change up my hair again. for a few reasons I'm planning on going back to my natural hair colour, partly because I want to grow it long again. first step, go shorter to go healthier. here's the first step look.

~ our Blue Bombers haven't been doing so well this year, so Sean was reluctant to enjoy the tickets my dad gives us from his season tickets once a year, this year on the 29th. it was actually hard to find anyone who could go, a lot of people had plans but I ended up being able to hang out with my Cuz Pam. I started inviting anyone just willing to hang with me for a couple of hours! Pam accepted and we had a chance to catch up but also somewhat enjoy watching, even though we lost.

~ the next day was an early start as we went to the early Church service so we could help set up for the blockparty our Church was hosting. we set up a booth for our ministry, we wandered as greeters, we roamed around chatting with the friends we don't often get to see, some we haven't seen at Riverwood ever but we were friends before from another Church. it was a gorgeous day (+25 weather!), a huge turnout, so many events to check out, a great time! and all for free to our Elmwood neighbors!





~ Thanksgiving weekend was a baptism weekend at Church and we had one at each service to go to, so that meant getting up for the 9:15 service 2 weeks in a row. I always get choked up at baptisms, these were no exeptions. one man was introduced to us through Celebrate Recovery, it has been amazing to see the transformation over the last year. the other was the husband of my good friend who just got married this last June. it's been a blessing to get to know them as a couple now as well, and we were so happy to witness this declaration!

~ Thanksgiving weekend always brings with it birthday celebrations for my hubby. this year I tried to surprise him (a dangerous and often unsuccessful attempt) with tickets to see Weird Al. he knows just about all parodies off by heart, in fact, he loves to parody songs himself, but I was hoping he still liked him enough to want to see him live. turns out he was pleasantly surprised, enjoyed the concert, even I did, and we were sitting one section over from his brother it just so happens, lol.

~ now we're on vacation, I finally have time to put together this catch up post! we're trying not to do much this week as we took it off to volunteer at the Global Leadership Summit again (hosted by our Church). we both love learning from the leaders who speak, but we have also loved the positions we have volunteered in. it's always a great time of meeting new Riverwooders and hanging out with the ones we already know, lots of laughs and hard work are a great way to bond. well worth working on my days off for :)