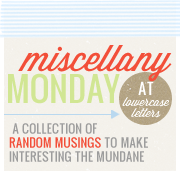 ~ well, birthday week is almost over :) it's made it a busy week but I'm so blessed to have so many people who want to help me celebrate my birthday, I feel so loved <3
~ here's some pics of the birthday pedicure and dinner last Tuesday that I mentioned last week.
~ my birthday necklace arrived FAST and I was wearing it already by Wednesday :)
~ finished writing my testimony, boy that was HARD!....leaders need to have a written one prepared because testimonies are part of the recovery ministry. I can have a convo about it no problem, but ask me to simplify it, make it to the point, and approx.10 min. long, yikes!
~ finished my first brochure to announce the launch of the recovery program!
~ Muki's mamma came by for a visit on Wed., with the usual Chilean bottle of vino. when she took him for a walk we took the opportunity to do a thorough house clean, like clean up little messes (when people knock or ring the doorbell when we're not there he gets a little scared), and wash all the fabrics, etc. this product, b the way, is an AMAZING stain remover if you are ever needing one.
~ went to to our first Bomber game of the season on Thursday and boy what an exciting game, and we won! I have never heard the crowd that loud, ever.
~ took the day off work on Friday to sleep in, go for breakfast while the car is getting some routine maintenance, and have a long weekend with my hubby who doesn't get Monday off. we wandered the mall where Sean bought me a book I've been wanting for awhile now.
~ we also went to see Transformers - Dark of the Moon 3D for our July date, which was fun.
~ also had our first Celebrate Recovery Leaders Team meeting on Friday. we will meet every Friday for 2 hours until it starts and then it runs every Friday evening all year round.
~ on my actual birthday we took it slow, mostly a typical Saturday. I got so many FB birthday greetings, some all the way from Hong Kong, Pompeii, Papau New Guinea, Alberta and Northern Manitoba :)
~ I'm determined to use my birthday dinners as a way to try new restaurants, it's worked 4 years in a row now ;) (hubs isn't too fond of trying new things) this year I picked Hermanos. it was awesome, tied with last year's birthday at Fude for sure. the steak was the best we've ever had. here are a few pics.
chicken & sausage empanadas
I would have taken a picture of my steak topped with shrimps half the size of my hands! but I dug into deep by the time I realized the plate looked a little too devoured for a decent picture. but take my word for it, excellent food!
~ today is another birthday tradition, ok, just started last year, but it's bound to keep going :) my baby sis has a birthday the day after mine, and she and I happen to find ourselves husband less on the August long weekend Monday, so we along with my other sister and my mom make a girls day of it. those details I'll have to give you later because I'm off and running for another day of fun.....