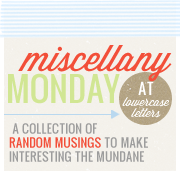 ~ what a week to start walking a dog first thing in the AM and last thing before bed....such a chill I've had! we really need some sunshine soon.
~ reading this new book,
No More Christian Nice Girl
....am really loving the concepts I'm learning! Nice isn't a fruit of the spirit you know...but goodness is! And if Jesus were a nice guy then he certainly wouldn't have been killed, now would he have.
~ the rising water has been crazy, and the ice jamming up on the river, last week one side of the Disraeli was complete broken ice all just pushed up against each other and onto the bank, the other side of the Disraeli was just water, no ice...what a weird site.
~ bought this set of
fun art pieces
I can use as gifts for a really good deal, she is an amazing talent, check out her page if you love funky and naturey art. (thanks
Pam for bringing these to my attention
!)
~ hubby's spiritual gifts are leading him down a similar path as mine....it's neat to think of ways we can team up and use our gifts together!
~ had my BIL come look at doing some work on our house, checked out our insulation and it's really good (yay!) but need more vents and stuff to keep condensation to a minimum, and cladding on our windows to keep air in. he brought Landon with him who got a kick out of a puppy and a kitty to chase!
~ gardening season is fast approaching, I really need to get started on preparations! I am ordering this fun
gadget from Tupperware to grow some herbs
with more success this year.
~I'm glad I have a doggy who needs walks 3 times a day so I'm walking minimum 20-30 minutes every day, especially on cold, rainy days I would never have got my butt off the couch!
~I got some really great new clothes because I was tired of the 'too big' and 'too small' on me syndrome I've been experiencing again lately....will have to have another Fashion Friday soon to share.