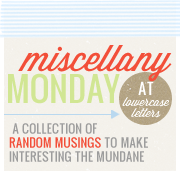 so after I wrote Mundane Monday last week I stumbled across Miscellany Monday, much more fun and bloggy official :)
~ I started work on the design of my next tattoo while I had my faith symbol touched up (yes 13 months after I had it done....busy artist, so that's why I snuck in a consult on my next one).
~ scored FRONT ROW tickets to see two country artists hubby and I have really wanted to see, Aaron Pritchett and Gord Bamford.
~ seemed to have hit a road block on my memorizing Philippians, got first chapter 95% memorized, just can't seem to fit even the first verse of the next chapter in this ol' brain of mine...grrr!
~ am getting excited to start planting seeds inside soon for my potted garden
~ we're debating cute lil' doggy sitting until July, I just have to work on hubby a little more ;)
~ am no longer as determined to vacation in Vegas this year, I know it will be fun but there, and that it will be hot, and cheap, but there are other places that could be fun for just as cheap, right? debating Chicago now, maybe Houston, a few places that are easier for hubby's best friend to meet us at but are still interesting places we've never been to.
~ ran one of my 'big dreams' by Sean the other day, relating to a possible ministry at Church and he totally has the same passion, we're now talking about how we can bring this to fruition in our own Church! so exciting!
~ I'm so in love with the Roots zip up sweaters I found at Costco, for $16!! that I bought five *blush*. But I'm always feeling too cold or too warm, needed some nice, versatile, layering sweaters and these were perfect for both work and casual wear, I just needed one in every colour!
~ I've been having a really good time mentoring a table at our Church's
Boundaries
course, seeing people opening up and really beginning to desire change and healthy relationships, and also re-learning it myself. mentoring this time around has been much easier.
~ we finally bought a really nice dishwasher and it's getting installed next weekend, yay, no more handwashing dishes!!!