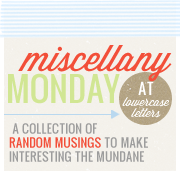 Here's my monthly collection of ordinary happenings and moments I don't want to forget.
~ hubby and I were invited to go out for lunch after Church with my ministry director and her husband. it's always nice to be able to chat about something other than ministry for a change, an opportunity to get to know each other better and bond over things that don't have anything to do with 'work'.
~ so I got a whim after a friend of mine chopped off her hair that I'd like to try it shorter too, the shortest I'll have willingly had it since grade 4! It's actually longer in the front but much shorter in the back, and I'm enjoying a 'hair free' neck in this heat wave we'v had for the second half of July!
~ Muki arrived again the evening of the 17th, while his momma went to Paris with her daughter! Wow! Couldn't we all just come along? :)
~ I was just thinking it was time to follow up on my tattoo design when I got a call that she still wasn't 'feeling' my design and created something 'inspired' by the elements I wanted, so I went down to check it out. it wasn't my style, although it was beautiful, so she recommended me to another artist. I had come prepared with additional 'inspiration' closer to my design idea than the drawings I first provided. I brought this picture and she loved it! can't wait!
~
I spent the 17th out in Altona and Steinbach.
I of course had to do my 'day with the newborn', oh yeah, and my sister. JK! I love getting hours of one-on-one sister time while I get to cuddle a newborn. And then get to play with Teigon when Tami was busy with Paxton. Then I stopped in Steinbach on the way back so that I could see my sister Jodi's new house. Their first house they've owned since they sold mom and dad's back to them about five years ago. It's a really nice place they will be able to stay in for a long time, lots of room for the kidlings!
~ we received the worst call of our lives (so far, but hopefully ever) on the night of the 21st to find out
my mom had a heart attack
. we still can hardly believe all that happened in a week, because exactly a week later she was home. she's recovered now very well and other than some possible side-effects of her new medication, she feels like her recovery from the surgery aspect is pretty much done! it hasn't even been a month yet!
~ mom's heart attack was good timing on many fronts, after Paxton was born but before my trip to California, thanks mom :) while preparing for my trip I had a little event called a birthday, but it went by without a lot of fanfare because the usual family celebration was supposed to be the weekend after mom's heart attack, but not knowing when she'd be out or up to we just cancelled. my birthday dinner with Sean was also postponed due to I wanted it at a down town restaurant and downtown at this time of summer is just a little too crowded for us. I did however get lots of love on FB and I even received a lovely journal! bought BEFORE
my request
:) Thanks Meg!
~ also during this week before my trip, Sean had an epiphany about a career change, he told me about it, I validated the idea, we prayed about it, we tested it out financially and with a few respected people's opinions, and
then went for it
! Sean will be attending Red River evening courses to take Applied Counselling! Yay! It will take awhile because we've decided to not go into debt for school, so he will remain working until he's done, which will take a little longer, but we feel this is exactly where God has led him.
~ luckily right before leaving for California I did get the long weekend Monday off, but as usual Sean didn't, so I got it to myself. I packed, prepared and then visited my friend in her new house for the afternoon. I brought her this belated gift for her June birthday, which she loved, because she's a dancer of course.
~ then Tuesday, bright and early...for me, at 6 am I was picked up to go to the airport. I took Gravol to help with flight queasiness I've been getting the last few times and it knocked me out so I slept through most of the three flights down to Santa Ana/Orange County where we landed at 4 pm. our days and evenings were jam packed with things to do so other than seeing palm trees and being in a heat wave, even for California, I essentially really could have been anywhere. I didn't get to see the ocean or anything 'tourist-y'. but that's ok, the things I experienced at the conference were more than worth it!
I did get to see a few things for the first time ever
, including the Grand Canyon on the flight back home...shortly before I fell asleep again!
~we arrived home just about 4 pm on Saturday the 11th, Sean met me there and I was soooo happy to see him and be in his arms again. we finally got to have my birthday dinner and of course a trip debrief meeting :) then we spent the evening watching
The Skit Guys videos
, laughing until it hurt!
What a month!