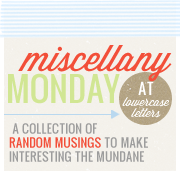 ~ well, I haven't done a 'catch up' Miscellany Monday for awhile, so much seems to have happened since, yet not a lot to 'write home about' as it were. the last few weeks I've been holding back on a lot of doing, trying to not let myself get overwhelmed during the very busy period before/during our launching of our recovery program at Church. not to mention the season change has seemed to contribute to making me exhausted because I've purposely held back on my vigorous exercise and increased my sleep but I'm still pretty tired/lacking energy. so therefore I don't have all that much to catch up on.
~ for my promotional role I've done so much already; I've created a weekly bulletin template and inserted the first 4 weeks worth of lessons into the template, created the preliminary brochure/handouts for more information to newcomers, created powerpoints for some of the worship music lyrics, created a script and premise for a video promo - as well as taped a clip for said video, wrote my testimony, created a schedule calendar for the year, am maintaining an inventory of our materials for purchase, created signs and building maps, and a few other little things. this is in addition to the couple hours I've spent each week studying the materials for the program, a few hours at a team leaders meeting which will continue each week in addition to time I spend involved in the Friday night program, where I will be running the resource table, running visuals (for now), co-leading a table for sharing women's hang-ups, and just helping things keep a float in general while we're still building a team to run the program. and breathe.
~ I have had several of my dear friends who also happened to be going through a few struggles these last few weeks, and have all reached out to me for prayer and support. Sean reminds me not to take on too much but I can't turn down a friend in need, I will always be there to talk with them, and pray for them. it really doesn't drain me, other than it's
hard on the heart sometimes.
~ we spent the last 2 Sundays watching football with my brother-in-law and will be spending the next Sunday there too for his birthday. I have been trying to encourage Sean to spend more time with him so this has been good, if only we didn't have to watch the Bomber's lose while doing it.
~ we did go on two dates the last two weekends, first dinner at Fude again, although we weren't as impressed with the menu this time, however we didn't know until after it was Vegan month which made for much less selection for us meat lovers. then we saw Planet of the Apes: Rise of the Apes on Saturday and it was awesome! we've fallen for the franchise, being that we really like monkeys I don't know why we didn't ever watch the originals before the remake a few years ago. I cried for the main ape and I said 'holy crap' about a dozen times!
~ the rest of the time I've been trying to keep myself on the couch (feels more like I'm resting my body that way), so I've been reading, digital scrapbooking, video gaming, and painting my nails so then I physically can't so anything :) I'm hoping I'll be feeling more rested after we've settled into autumn, new routines, and our program, but until then I'm going to be giving myself hefty doses of rest and relaxation. we'll see what that means for my blog time....sorry in advance for the absence.