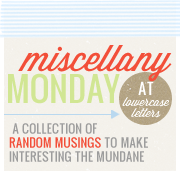 Here's my monthly collection of ordinary happenings and moments I don't want to forget.
~ life doesn't seem to be slowing down at all, I won't be surprised if this has to become an 'every other month' feature! and my memory isn't really cooperating with that kind of schedule because I don't write anything down as it happens, no, I try to stretch this memory of mine and recall it 6 weeks later!
~ well, the summer social life has officially kicked off, had my first of the season
walk n' talks with Pam
, in mid-May. Had another great one with my neighbor-bestie last week, the weather decided to co-operate in a week of rain and so the heat was conducive to my desire for a chocolate extreme blizzard reward. I love summer for this fact alone, walk n' talks are the most fantastic use of time :) exercise, social interaction, fresh air, and often a visit that long is great for catching up, venting, and/or sharing life's joys and struggles.
~Wedding showers and birthday celebrations (with REALLY good food)
have filled up quite a bit of time and the birthdays are only starting to gear up, June and July are the really busy months! In fact, the collages I mentioned last time are birthday gifts,
I've already given one
, a second I just gave on my walk n' talk last week (below), and the other two you will just have to wait and see ;)
that says soar, not sear :)
~ all the wedding creations are done as of last Monday, burlap sign, burlap pendant banner, coffee filter flowers, coffee filter flower pens. The wedding was on Saturday and it was absolutely beautiful!
I love my new dress, going to need another excuse to wear it again soon.:)
~ small group has been awesome, we even have a private FB page now to share through the week, because Wednesdays, Fridays and Sundays are not enough time together :) summer is making it hard for all of us to always be there but it's great having a place to chat almost as good as in person.
~ I already talked about the
awesome May Long Weekend
we had! Here are the gifts we gave mom....forgive the blurriness, I collaged them into one picture for the rest of us.
~ Riverwood did their yearly Love Winnipeg - Trash the neighborhood, blowing away their record of 40 tonnes of garbage taken off the streets, back lanes, yards of Elmwood. We weren't able to start off at 10 am so at noon we bought a bunch of water bottles and handed them out to those we could find in the neighborhood working. Here's a video Riverwood put together of the event.
Trash the Neighbourhood 2012
from
Riverwood Church
on
Vimeo
.
~ Teigon turned TWO at the beginning of June and we went out to Altona to celebrate. It was so much fun; playing outside (until they sky opened up on us), playing inside with all the balloons, a train cake made by Grandma looked a little too real for Teigon to eat :) The birthday boy loved the baseball and bat we gave him. Also gave him a mini golf club set. He's such a mini-Kellin I figured he should get toys like daddy's.
he takes his baseball very seriously :)
~ on the eighth we got a break from our typical Friday night at CR and had a 5 Year Anniversary celebration at my boss' house for 4 staff at Golder who have reached this 5 year mark in the last 4 months, me being one of them. we haven't had a big get-together where just about every person has shown up (including some former employees :) since Christmas, so it was fun to all hang out together, enjoying the company, food, outdoors. especially since there were babies to hold :) our first gathering with babies! our former co-worker who moved to the Golder Ottawa office came out because they just so happened to be in Winnipeg visiting, and she showed up 6 mo. pregnant, which was neat because once I heard she was I got this sense she was going to announce a pregnancy. I've been getting better at intuition like this, it's kinda freaky!
~ our one free weekend in June was last weekend and I spent it re-organizing my bathroom :) I don't have pictures yet because it's not quite done, but here are the pics from Pinterest that inspired the changes.
I think I need better hanging devices, but it's kinda working so far the way I have it.
just need hubby to mount the rods and the baskets are ready to hang
moved the towels from bedroom closet to under sink....for those times when you only realize you need a new towel after you are out of the shower :) I also would like to find those mountable shelves.
super way to hide toilet paper, and I can matchy-matchy paper with my bathroom :)
~ last but not least, another day with the family at Kildonan Park for a Father's Day picnic. Wasn't exactly sunny but the rain held out most of the afternoon and we still had lots of fun! I forgot to take a picture of dad's gift, but it was a painted tree with all of our thumb prints as leaves for a family tree. gotta love Pinterest, Jodi and I saw this idea and immediately thought of our dad who loves all things geneology. Since it's a 2012 family tree we have one tiny little finger print that will have to wait a little while to be added.....can't wait for my newest nephew's appearance any time now :)