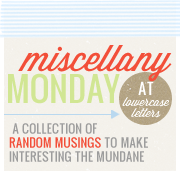 ~ well, I haven't done a 'catch up' Miscellany Monday since October, thought it would be an easy way to catch up on all that's happened so far in December!

~ Dec. 3rd we went to the Doc Walker concert at Pantages Playhouse. They are a Manitoba Country band and they haven't had a concert (except Country Fest-like concerts) since they opened for Paul Brandt back in like 2002-ish. We've been hoping they would someday soon have a concert we would attend in Winnipeg and were ecstatic to find out they were coming. We even got pre-sale tickets, front row! It was a great show!


~ Dec. 7th we started another short stay-cation because we went to the Paul Brandt/High Valley concert this evening. We see Paul Brandt everytime he comes to Winnipeg, and High Valley opening was a bonus! We've been waiting 4 years for him to come back (he came to Portage la Prairie 2 years ago, we went to that one too)! It's funny, we found out only a few days after buying Doc Walker tickets but we made it work to buy 9th row center tickets for Paul too. His concerts get better and better every time!


~ Dec. 8-9th we took off for some errands/appointments and relax time before the holidays, since Sean couldn't use the last of his vacation time during the holidays. Got a mani/pedi from Groupon that I used and it was actually a nice little place, I've already got plans to come back.


~ Dec. 8th our recovery leaders had our monthly meeting and it was a really awesome time of connecting. We had a chance to share more significantly with each other, earn a little more trust with each other, pray for one of our own who is struggling medically (and prayers were immediately answered the next day!).

~ Dec. 10th was my office Christmas party which was a great time of visiting as always. We've been trying out different venues, trying our best to combine being able to freely visit (not a table dinner where you only visit in your radius) but also a relaxing time where we are served and don't have to work at the meal in amongst visiting (like the potluck we tried last year). I think we were closer this year, however the room wasn't as private as we thought and so other parties on the same floor kind of squashed us in a corner and we had trouble hearing each other as the evening went on. Practice makes perfect, but it was still a really great time.

~ Dec. 11th was our annual mom and daughter Christmas baking day....which my two neices were able to help (slightly) with this year for the first time. We of course got caught up in baking and visiting, only got half done, I forgot to take pictures, but here are some of the results :) Including the shortbread dough I had to bring home to bake tonight.


And of course, the usual bits of life have continued in amongst it all as well. Looking forward to life quitening in a month (yes a full month), but will enjoy the time with family and friends, even amidst crazy chaos, until then.