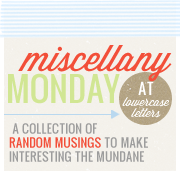 Here's my monthly collection of ordinary happenings and moments I don't want to forget.
~ so it seems I'm doing this every month and a half now :) The last two weeks have been crazy busy, not even any lunch time to blog here and there, so now I have to think way back to the beginning of April to remember what I don't want to forget!
~ come to think of it the whole month of April has been crazy, we couldn't even schedule Easter with the family on Easter weekend, due to Church meetings, friend gatherings, my sister's work and my other sister being at a wedding, etc., so it got bumped a week, and by then it was close to mom's birthday so I brought her flowers and an ice cream cake to celebrate, in addition to all the chocolate we would eat.
~ at CR over the last month we've had some big challenges, mostly with leaders who just aren't working out and that's been hard, frustrating, exhausting, especially in a ministry like recovery where you know people are even more sensitive to rejection and boundary issues than most. on the plus side, our core team of leaders (4 of us) are going to their conference in California in August, so excited for that!
~ we took some staycation time the 3rd week of April and our first day off we picked up a new little addition to the family, Cinder - little sister to Ember.
~ during staycation I began 3 more collage paintings, I can't wait to finish and show you the 3 new lovely pieces I have in mind!
~ during my time off I also began some decor for my friend's wedding, a cute burlap pendant banner and a sign for her card table. Also coffee stained some coffee filters for some flowers we'll be creating with them. we've since hung out again to brainstorm some more lovely ideas, especially to use up the burlap, I got so much for so cheap at Rona :) her vintage shabby chic wedding is going to be so beautiful!
~ was also able to spend most of an afternoon in the yard prepping for garden season, here are my seeds popping up already!
~ as I've already mentioned my vacation time was capped off by an awesome retreat, a great time to learn from a lot of lovely ladies, and have a bit of fun too!
~ after my R&R time I came back to a crazy busy week at work but was FINALLY able to fit in (thanks to a co-worker who was looking for a 'buddy') going to give blood! For the first time ever! I've been wanting to do it since about 2007 but tattoos have interfered until Feb 2011, but since then I haven't been able to get to one near by or I've been sick when I can go. So I finally made it, and apparently I have been neglecting something I was made for, 4 nurses said I have 'wonderful veins' and I'm O+. AND, it wasn't nearly as bad as having blood taken at the doctor's office/clinic.....that experience for me has been one of the reasons I've been not so enthused about giving blood. But I didn't get queasy, it didn't hurt, I wasn't light-headed, I felt really good after actually :) Can't wait to go again!