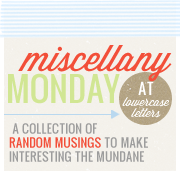 ~ well, it's been over a month again since I did this catch up, maybe I'll have to call this Miscellany Monday Monthly! by now I've forgotten all that has happened since just before Christmas!
~ New Year's we did our usual thing and stayed in with Chinese food and video games. we really like the low key start to a new year after the hulabaloo and chaos of Christmas gatherings for almost an entire month. plus we stay off the road where drunk driving is still way too much of a problem.
~ I tried out another version of homemade pizzas where I don't have to make the crust :) just use naan bread, or pita bread! it was really, really good! it will be nice in a pinch instead of frozen pizzas, I just have to keep naan bread in the freezer.
~ the second weekend in January, our leader at Celebrate Recovery took out our core leadership and their spouses to a 'Christmas present' dinner at The Gates! I've wanted to go there for awhile now and it did not disappoint, really delicious food and nice atmosphere. I was inspired by my maple squash soup to try and make it on my own, turns out the ladies I was with have before and gave me their recipe tips. This was my white chocolate raspberry cheesecake for dessert.
~ then at work we have 2 co-workers, Tanyss and Cam, who have babies due the same day at the end of January, so the 13th was Tanyss' last day at work. I spent most of that week putting together a double shower including gifts and planning lunch for her last day. these are the gift baskets, including scrapbooking kits I put together from my stash I'm selling off.
~ last night I made this gem I've been eyeing on Pinterest for awhile! awesome idea and soooo yummy ;)
~ the rest of January was spent finishing up the Financial Peace course at Church (I will have a blog on that soon enough :), a few visits with friends, and finishing up my meal plans so that I could finally do my big shop/cook/pack weekend.....which started last Saturday and has now turned into almost a full week. Only Thur. and Fri. weren't spent on it because I had Celebrate Recovery meetings. it's a little exhausting being on your feet that many nights in a row but I know it will be worth it for the next 22 weeks when I've got 6 days of meals planned for every one of those weeks!
~oh, and one last thing, Happy Birthday to my sister Jodi!! today is her 31st birthday.